Stem Cells for Facial Rejuvenation
Conveniently located to serve the areas of Greenville, SC, Spartanburg, SC, Columbia, SC, Anderson, SC and Asheville, NC
A stem cell "facelift" is a nonsurgical, minimally invasive procedure that promotes reproduction among existing cells. Signs of aging can be smoothed and tissues can be plumped after one simple session. This procedure results in increased collagen production, fewer wrinkles, and volumization around the eyes, cheeks, and mouth.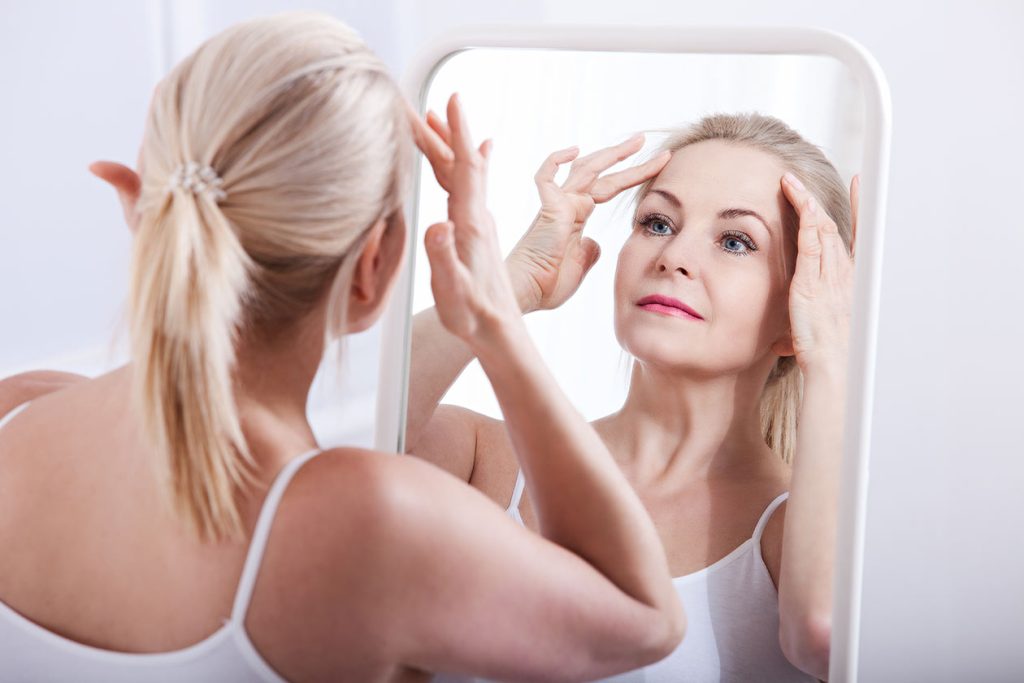 The effects of aging are more apparent in the face than anywhere else in the body. Gravity and a loss of elasticity can cause skin to wrinkle and sag. However, aging can also be influenced by environmental factors such as lack of sleep, sun overexposure, or poor hydration. And for some of us, deeper wrinkles and lines can come as a surprise compared to our familiar youthful looks. Now, you can experience a smoother, rejuvenated skin with a stem cell facelift.

Dr. John C. Haasis and his staff at Daisy Stem Cell Therapy have helped patients from across the Carolinas to achieve effective facial rejuvenation with stem cells. Learn more about the benefits of stem cell therapy. We have locations in Greenville, Spartanburg, Columbia, Anderson, and Asheville. To book at any location, contact us at (864) 775-5682 or complete our online contact form.  
About Facial Aging
Even great skin care can't fix the long-term effects of facial aging. You may not notice the changes immediately, but one day, the face that looks back at you in the mirror may not look as familiar to you as before. Smile lines, brow furrows, and vertical lines around the mouth are common, as is a gradual hollowing of facial features, especially around the eyes. Factors that accelerate aging include: (1)
Smoking
Drinking Alcohol
Environmental Pollutants
Medical Conditions
Diet
The Skin Cycle
The epidermis is the outermost layer of the skin. It protects us from external pathogens and environmental toxins and pollutants. It also provides valuable hydration. Epidermal skin cells follow a continuous cycle of rejuvenation. And on average, it takes around 40-50 days to replace existing skin cells with new ones. (2)
With age, cells atrophy (slow down) and lose the ability to replicate. This results in fewer healthy cells and more damaged cells in epidermal tissues. Stem cells offer a solution to the loss of natural cell replication. Their self-renewing, restorative properties can provide a bulwark against aging and help reverse some of its effects. Using stem cell therapy, Dr. Haasis targets the problem area, promoting youthful rejuvenation of your skin, reducing wrinkles, and supporting better skin health
What Can Stem Cell Therapy Treat?
Lines & Wrinkles
Large Pores
Under-Eye Bags
Tissue Hollowing
Nasolabial Folds
Marionette lines
Acne Scars
Textured Skin
Dull Tone
About Stem Cells
Stem cells are a "blank slate". These unspecialized cells have regenerative properties, with the capability to replicate new stem cells, or create a specific type of cell for a specific purpose in the body (e.g. blood cells, brain cells, skin cells, or muscle cells). (3) Skin stem cells play a key role in skin renewal throughout life, and heal tissues after injury.
As skin stem cells age, they gradually lose their ability to regenerate new cells. They may also become damaged through environmental factors and damaged DNA. One of the main causes of this type of cell damage is UV radiation, which is why it's always important to wear sunscreen!
How Can Stem Cells Delay Aging?
Stem cell therapy is a shield against the effects of aging. An infusion of stem cells into target sites on the face will aid in the renewal of damaged tissues and help improve cell function overall.
Collagen is a key protein responsible for skin structure, strength and elasticity. Patients who undergo skin rejuvenation with stem cells experience softer, more supple skin. Stem cells may help to reverse some of the effects of aging in the following ways: An infusion of new stem cells helps to restore the skin, replacing damaged cells, and increasing collagen production. The nourishing effects of stem cells improves skin tone and texture, and helps to reduce fine lines and wrinkles on the face. With stem cell therapy. patients experience refreshed, rejuvenated, healthy-looking skin!
Benefits of Stem Cell Therapy
Nonsurgical Alternative: With a stem cell "facelift", patients avoid the expense, complexity, and prolonged recovery period of a standard facelift, which is a significant surgical procedure.
Simple Procedure: There are very few steps in a stem cell procedure. The process does not take long, and you'll be free to leave immediately after.
Tissue Regeneration: Stem cells carry the capability of differentiating into various types of cells which can then naturally replace damaged tissue for a healthier glow.
Inflammation Reduction: Stem cells may carry anti-inflammatory properties that counteract the chronic low-grade inflammation common as we age.
Less Oxidative Stress: Stem cells may help protect against oxidative stress which contributes to aging. Oxidative stress occurs when an imbalance exists between antioxidants and free radicals. This imbalance leads to chemical reactions with the excess of free radicals that can create reactions with other molecules.
Candidates
Stem cell therapy is an option for most patients. You may be a good candidate for stem cell treatment for facial aging if you are experiencing common effects of aging. The best candidates are patients with moderate signs of aging starting to see real differences in particular areas of the face, such as brow furrows. It is also useful if you have specific problems related to your skin type, such as enlarged pores.
Patients with certain serious medical conditions may not be eligible for a stem cell rejuvenation procedure. At your consultation, we can determine if stem cell facial rejuvenation treatment is right for you. Complete a form on our website to get started.
Personal Consultation
Dr. Haasis is a board-certified, fellowship-trained surgeon who has helped patients to achieve effective results with regenerative therapies. His holistic, personalized approach has given numerous patients a well-contoured, smooth, and revitalized complexion with long-lasting results.
During your personal consultation, we will discuss some of the effects of aging you are experiencing, and perform a skin examination. You will also have the opportunity to ask Dr. Haasis about the details of the procedure, and recovery. If you are ready to see if a stem cell facelift may be right for you, contact us today at our Greenville office at (864) 775-5682.
Preparation
Following guidelines thoroughly will ensure that you experience the best results possible from your procedure. In preparation for a stem cell facelift, you should:
Avoid excessive sun exposure two weeks before surgery.
Cease all smoking, and any products containing nicotine
Don't take medications or supplements that thin the blood (e.g. aspirin, ibuprofen, St. John's wort)
Arrange 5 to 7 days off of work for recovery from the procedure.
Allograft Stem Cells
Studies have shown that regenerative therapies can mean a 25% improvement in patient appearance, being particularly effective in reducing the appearance of nasolabial folds. (4) Dr. Haasis will assess which areas of your face can be treated and incorporate it into your personalized treatment plan.
Facial rejuvenation with stem cells can be done using local anesthesia. Fact cells are allograft in nature. The process, also known as allograft transplantation, means they are not harvested from the body but from donor tissue. Allografts have been used successfully for many years in orthopedic surgery to achieve a comfortable range of motion, in the hand & wrist, the elbow, and the knees. A facial rejuvenation procedure with stem cells takes between 30 minutes and one hour to complete.
Recovery
Minimal recovery time is required for stem cell therapy. Most patients only require a few days of rest at home. In the first few days after treatment, you may experience redness and swelling, the sensation of which is similar to sunburn. Swelling will subside after about a week. You may reapply makeup and skin care products after swelling has resolved. Your appearance will settle after four to six weeks. Gradual improvement in skin texture, tone, and quality will continue to occur in the months that follow the procedure.
Results
Results from stem cell therapy are not immediate, but they are worth the wait. The body needs time to use the valuable components of the stem cells to promote healing, reduce inflammation, and increase collagen production. Patients usually see a clear difference after around two months. Continuous improvement in texture, tone, and skin quality will occur for about 12 months after the procedure with results more dramatic and visible.
Cost of Stem Cells for Facial Aging in Greenville, SC
The cost for this procedure varies and will depend on your individualized treatment plan, drawn up by expert regenerative medicine specialist Dr. Haasis. Dins help for common signs of facial aging.. Discover the rejuvenating benefits of stem cells with a stem cell procedure at the Daisy Institute. Call us at (864) 775-5682, or contact us via our online form for more details.
What are the non-surgical procedures for nasolabial folds?
For most patients, dermal fillers are the most obvious solution to prominent nasolabial lines. But they may not be the best answer. Stem cell therapy can provide subtle but effective facial rejuvenation where you need it the most, with results that last far longer. Areas of treatment include the nasolabial folds, under-eye bags, crow's feet, and marionette lines.
Are stem cell treatments expensive?
Compared to invasive cosmetic procedures, such as the facelift, stem cell therapy is a far more accessible treatment for facial aging. Speak to your provider about your areas of concern and look for doctors who provide personalized treatment plans for the most cost-effective treatment.
Is stem cell therapy painful?
Stem cell therapy is well-tolerated by most patients. The procedure itself involved the use of local anesthesia, and the recovery period is shorter and less painful than surgery.
References