IV Infusions
Conveniently located to serve the areas of Greenville, SC, Spartanburg, SC, Columbia, SC, Anderson, SC and Asheville, NC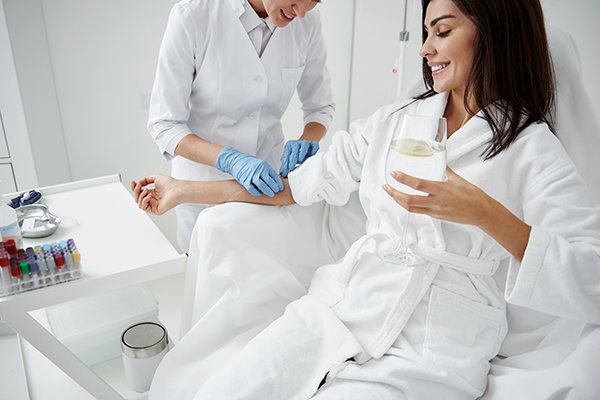 IV infusions are the most effective way to deliver essential minerals and vitamins directly to the body. While a proper diet and supplements are important parts of a healthy lifestyle, IV infusions allow immediate and uncompromised delivery of medically calibrated nutrients. Administering these infusions intravenously introduces them directly to the circulatory system.
It's similar to the difference between mailing a letter and turning on the radio. Everyone can get the information they need rather than waiting for it to be sent and arrive (possibly damaged) at its destination. Best of all, there is a variety of specially formulated infusion solutions available to treat specific symptoms and reinforce our body's essential functions when we need them most. At Daisy Stem Cell Therapy, Dr. Haasis is committed to offering his patients effective paths to overall wellness. Call (864) 775-5682 to schedule an appointment today. You'll learn more about the IV infusions offered, and the potential they hold for your health. Daisy has locations that span the Carolinas and include Spartanburg, SC; Columbia, SC; Anderson, SC; Greenville, SC; and Asheville, NC.
About IV Infusions
Humans have evolved to obtain most of the vitamins and minerals we need to sustain life from the food we eat. And before 1935, it was the only way to do so. Since then, supplementary vitamins have come a long way. From early yeast extract tablets to synthetically produced Vitamin C to government-mandated flour enrichment (1), there's still room for further development besides what you might pick up from GNC today. We're fortunate enough to have progressed from preventing dangerous deficiencies to using nutrition to optimize every aspect of our well-being. And, that's exactly what intravenous vitamin therapy infusions are intended to do.
IV Infusion Therapy Treatments in the Carolinas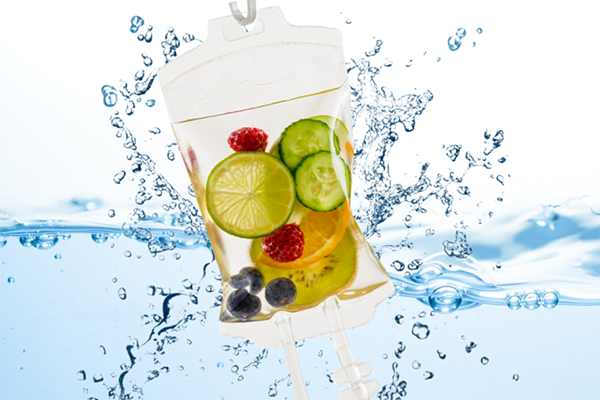 Administering nutrients intravenously allows patients to benefit from concentrations of vitamins and minerals that would be impossible to receive after being consumed and passing through the digestive system. And with a wide array of IV infusion choices, you can be sure that you are getting optimal doses of therapeutic nutrients when you need them most.
Amino Blend
This blend of nutrients is perfect for those looking to fuel an active lifestyle, improve performance, and get the most out of their metabolism.
The Amino Blend contains:
Glutamine
Ornithine
Arginine
Lysine
Citrulline
Carnitine
This blend of essential and non-essential amino acids also supports overall health. Lysine assists in the production of collagen and elastin. Ornithine aids in detoxifying the body and liver.
Ascorbic Acid
Ascorbic Acid is what we commonly know as Vitamin C.
This powerful antioxidant supports cellular health and contributes to healthy skin, teeth, bones, and blood vessels. You probably knew it was good for your immune system. In 2007 alone, Americans bought over 884 million dollars of it! But, it's also been used in alternative medicine for over 60 years to treat a wide variety of illnesses and diseases. (2)
L-Glutathione
This powerful antioxidant improves your health on a cellular level. Not only does it neutralize harmful free radicals, but it aids in removing toxins from the body, including transporting mercury out of the brain. It also plays a role in regulating normal cell growth and death. (3)
Mineral Blend
The Mineral Blend includes important minerals such as:
Magnesium
Zinc
Manganese
Copper
Selenium
Minerals come from the earth, and traditionally, humans were dependent on plants or animals to process them into a consumable source. Individual cells to entire body systems depend on them for proper function. This mineral blend supports nervous system health, improves metabolism, and boosts immunity.
Nicotinamide Adenine Dinucleotide (NAD+)
Nicotinamide adenine dinucleotide (NAD+) is a nucleotide that is essential for promoting our cellular health, including repairing our DNA and maintaining the communication that allows our immune system to function. Most notably, it can reduce cell damage in the brain. Increased NAD+ levels like the kind achieved from an IV infusion can treat neurodegenerative diseases like those associated with aging or the late stages of HIV. (4)
Tri-Immune Boost
If you're feeling something coming on or are dealing with a compromised immune system, this IV Infusion can keep you up and running.
The Tri-Immune boost contains:
Glutathione works on the cellular level to detoxify, while Vitamin C (Ascorbic Acid) and Zinc boost the immune system.
Myers' Cocktail
This was the original IV nutrient infusion and remains the gold standard in intravenous therapies. Dr. John Myers administered his proprietary blend to patients in order to treat a variety of conditions. After his death in 1984, demand remained.
Key ingredients in the Meyers' Cocktail include:
Magnesium
Calcium
B Vitamins
Vitamin C
This infusion has proven effective in treating migraine, fatigue, muscle pain, allergies, and sinusitis, among many others. (5)
Find the Perfect IV Infusion for You
Daisy Stem Cell Therapy also offers specially blended IV infusions to address some of our patients' most common wellness concerns:
Alleviate – Perfect for the common symptoms of PMS. Improves bloating, aches, and irritability
Get Up and Go – Energy, metabolism, and fat-burning
Immunity – Stay well or recover faster with Vitamin C and Zinc
Brainstorm – Improve brain function with folic acid, B12, Taurine, and alpha-lipoic acid
Inner Beauty – with Vitamin C and Biotin for beautiful skin and hair
Reboot – For hangovers
Quench – For hydration and fatigue
Recovery and Performance – Improve endurance, energy, and muscular health
Candidates
One of the advantages of IV Infusions is that they can both treat and prevent such a wide range of conditions. During your personal consultation with Dr. Haasis, he'll review your medical history and listen to your health concerns to suggest the best course of IV Infusions to improve your overall wellness. While some infusions are appropriate for specific occasions where fast recovery is required, those with underlying conditions can benefit from a prescribed course of IV treatments as part of a regenerative medical regimen. To get started feeling your best, and give your body advantages on the cellular level, schedule an appointment at Daisy Stem Cell therapy.
Whether you're in North or South Carolina, there's a location near you! Call (864) 775-5682 to get started today.
Preparation and Procedure
Before you get started with the IV infusion that best suits your needs, Dr. Haasis will get a full picture of your health. He'll need to know about any medication or supplements you take, and what your current vitamin regimen consists of. He may also require a blood test to check your current levels. If any preparation is required before your infusion session, you'll be given detailed instructions.
You may find that the hardest part of an IV infusion is just showing up! Once you do arrive, all you have to do is sit back in one of our comfortable treatment chairs and relax. One of our nurses will disinfect your arm and then insert the butterfly needle into your vein. It's connected to the IV bag filled with the solution of your choice, which will slowly drip into your system over the next 45 minutes or so. Once you're done, you'll be bandaged up, feeling great, and ready to return to your day.
Results
Whether you're looking to avoid a cold, treat an illness, or recover from jetlag or a night out, IV Infusions are a fast way to feel your best. The concentrated levels of vitamins and minerals, and the hydrating saline solution that they're administered in are an efficient way to get your body what it needs. To learn more about the other services that Daisy Stem Cell therapy offers, and learn more about the latest in regenerative medicine, follow Dr. Haasis' blog: The Daisy Effect.
Corresponding & Complementary Procedures
To boost your health on a daily basis, there are myriad herbal supplements that address specific concerns. Daisy Stem Cell therapy offers patients the chance to consult with Dr. Haasis before starting an herbal supplement regimen. Having an experienced and knowledgeable doctor that is also well-versed in the world's oldest form of medicine will ensure that you receive a personalized and effective course of supplements.
Cost
The price of your IV Infusion treatment session will depend on the kind of infusion you've selected and whether you've chosen any additional services to complement your treatment.
References