Stem Cells for Back Injuries Spartanburg, SC
Conveniently located to serve the areas of Greenville, SC, Spartanburg, SC, Columbia, SC, Anderson, SC and Asheville, NC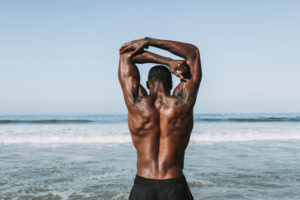 Stem Cells for back injuries are an emerging, minimally-invasive treatment. The treatment uses stem cell injections to help regenerate anatomical structures, restore functionality, and reduce pain. Stem cell treatments leverage the unique ability of stem cells to grow into a wide array of specialized cells. Stem cells may help repair the herniated disks in the back and stimulate the repair of damaged muscles and ligaments.
Regenerate Your Back
Around the world, back pain is the leading cause of disability.[1] The Bone and Joint Initiative estimated that back pain was the cause of over 264 million missed days of work. That translates to two missed days of work for every worker per year.[2]
If you want relief from back pain, consider stem cell therapy. Stem cell treatments show the potential for the reduction of pain from back injuries without the need for invasive treatment such as surgery.
Dr. Haasis, founder of The Daisy Institute, stays at the forefront of regenerative medicine. A specialist in pain management for over 25 years, he seeks to bring his patients only the safest and most promising innovative treatments. Stem cell therapy is recently emerging as the most promising form of regenerative medicine for treatment. Reduce your pain and discomfort by connecting with The Daisy Institute today. Learn more about stem cells by contacting The Daisy Institute online or calling our Spartanburg, South Carolina office at (864) 775-5682.
Benefits
Minimally invasive
Reduction of pain
Boost in regeneration
Safe and natural
Common Causes of Back Pain
Disc Injuries
The discs in our back provide cushioning between the vertebrae bones. Bulging or ruptured discs place stress on the nerves in our backs which resulted in pain. Also called herniated discs, poor posture while lifting heavy objects as well as twists and other strains can cause a herniated disc.
Arthritis and Other Rheumatic Conditions
Arthritis of the back and spine means an inflammation of the joints, either the spinal joints or the joints between the spine and pelvis. This chronic condition can result from the wearing down of joints due to age, an autoimmune condition, or infections.
Osteoporosis
Osteoporosis is a condition where the bones weaken over time and become more brittle. Several factors can increase the risk of osteoporosis:
Reduced calcium intake over a period of time
Eating disorders that result in being underweight
Long-term corticosteroid use that interferes in bone regeneration
Medication conditions such as cancer or liver disease
Excessive use of alcohol and tobacco
Sedentary lifestyle without exercise
Muscle or Ligament Strain
Straining the muscles or ligaments in our back often results in back pain. Improper lifting technique, lifting something too heavy, and abrupt twisting or bending of the back can cause a muscle or ligament strain.
Your Private Consultation in Spartanburg, SC
During your consultation with Dr. Haasis, he will assess your medical condition and perform a preliminary examination to determine if you are eligible for stem cell therapy. Dr. Haasis is board certified in pain management and has 25 years of expertise in interventional pain management. He is a fellowship-trained anesthesiologist and focuses on regenerative medicine.
To discover if stem cell therapy can benefit you, schedule a consultation online or call our Spartanburg office at (864) 775-5682.
Stem Cells for Back Injuries
Stem cells are special progenitor cells in our bodies that show the remarkable ability to grow into any of the specialized cells of our body. By taking advantage of this ability, stem cell therapy shows a lot of promise in the regeneration of damaged tissue while preserving our natural biomechanics.[3] The result is a reduction in pain and improved functionality.
Results
Dr. Haasis's patients have benefited tremendously from stem cell therapy. Read their reviews to get a feeling for how stem cell therapy might reduce your back pain.
Cost
At the Daisy Institute, we don't believe a single treatment plan can work for everyone. Every successful treatment must be customized to the patient and their condition. After your consultation with Dr. Haasis, he can provide you with accurate and transparent pricing for your personalized therapy plan.
References
Hoy D, March L, Brooks P, et al. The global burden of low back pain: estimates from the Global Burden of Disease 2010 study. Annals of Rheumatic Diseases. 2014;73(6):968-974. doi:10.1136/annrheumdis-2013-204428
The United States Bone and Joint Initiative. (2018). Hidden Impact of Musculoskeletal Disorders on Americans. Retrieved on July 29, 2020, from https://www.boneandjointburden.org/docs/BMUS%20Impact%20of%20MSK%20on%20Americans%20booklet_4th%20Edition%20(2018).pdf
Vadalà, G., Russo, F., Ambrosio, L., Loppini, M., & Denaro, V. (2016). Stem cells sources for intervertebral disc regeneration. World journal of stem cells, 8(5), 185–201. https://doi.org/10.4252/wjsc.v8.i5.185